Home : Popular and Classical Collections : Gig Book Pub Songs Melody Lyrics Chords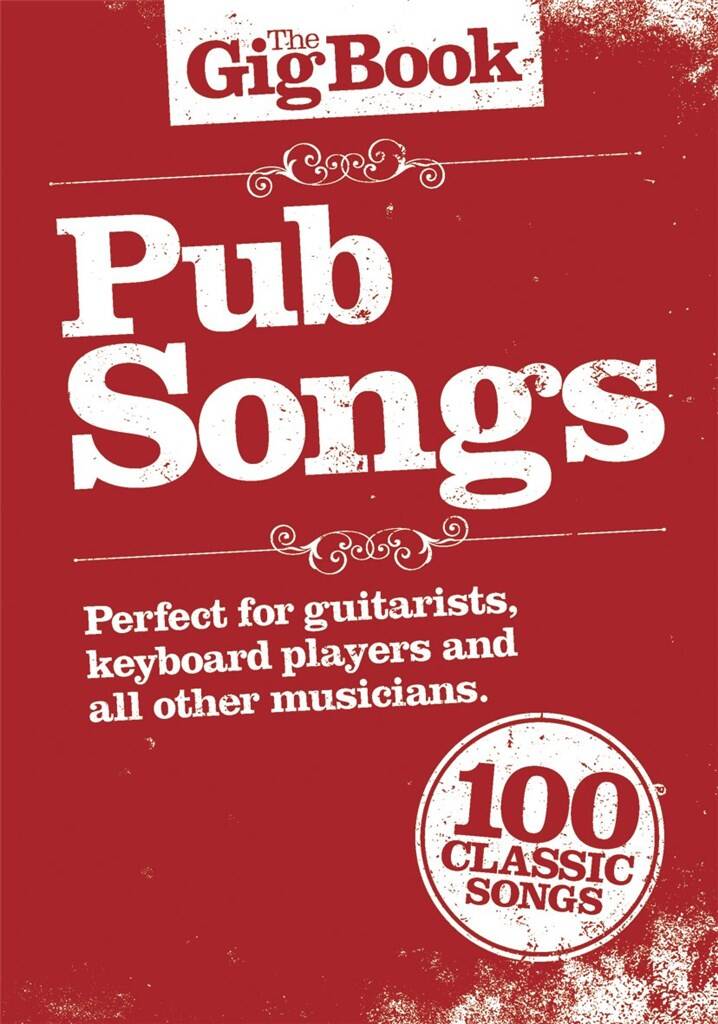 Gig Book Pub Songs Melody Lyrics Chords
---
---
---
---
Gig Book Pub Songs' Featuring lyrics' chord boxes and melody line' text' as well as black 'amp' white photos' these handy music books may look deceptively compact from the outside' but glance inside and you'll see they're actually super'sized packages of hit after hit perfect for guitarists' keyboard players and all other musicians' Songs inc' Lambeth Walk' Pennies from Heaven' Little Brown Jug' Underneath the Arches' We'll Meet Again' For He's a Jolly Good Fellow' Sonny Boy' Rabbit' and Many More'

Just one of the many exciting Music collection products from our immense range of Sheet Music, Songbooks and Music Gifts for all Musicians, Teachers, Bands, Choirs, and Schools.
---
Arrangement:
Melody Lyrics and Chords
---
Abie My Boy
Mcghee / Rule / Silberman / Grock
After The Ball
Charles K. Harris
Aint It Grand To Be Bloomin Well Dead
Leslie Sarony
Aint No Pleasing You
Chas & Dave
All By Yourself In The Moonlight
Jay Wallis
Another Little Drink Wouldnt Do Us Any Harm
Grey / Ayer
Beer Barrel Polka (roll Out The Barrel)
Brown / Zeman / Vejvoda
Beer, Beer, Glorious Beer
Anderson / Leggett / Godwin
Bill Bailey, Wont You Please Come Home
Hughie Cannon
Boiled Beef And Carrots
Collins / Murray
Burlington Bertie From Bow
William Hargreaves
Champagne Charlie
Whymark / Lee
Chick Chick Chicken
Holt / Mcghee / King
Cockles And Mussels
Trad.
Cruising Down The River
Beadell / Tollerton
Daddy Wouldnt Buy Me A Bow Wow
Joseph Tabrar
Dont Dilly Dally On The Way
Leigh / Collins
Dont Laugh At Me (cause Im A Fool)
Wisdom / Tremayne
Down At The Old Bull And Bush
Von Tilzer / Stirling / Kron / Hunting
Eleven More Months And Ten More Days
Fields / Hall
Fanlight Fanny
Cliffe / Formby
Flanagan
Murphy / Letters
For Hes A Jolly Good Fellow
Trad.
Friends And Neighbours
Scott / Lockyer
Glad Rag Doll
Yellen / Dougherty / Ager
Goodnight Sweetheart
Noble / Campbell / Connelly
Has Anybody Here Seen Kelly?
Murphy / Letters / Mckenna
Heartaches
Klenner / Hoffman
Hold Me
Little / Oppenheim / Schuster
How The Money Rolls In
Trad.
I Aint Got Nobody (and Nobody Cares For Me)
Williams / Peyton / Graham
I Came, I Saw, I Congad
Cavanaugh / Redmond / Weldon
I Wouldnt Leave My Little Wooden Hut For You
Mellor / Collins
Ill Take You Home Again, Kathleen
Thomas Westendorf
Im Gonna Sit Right Down And Write Myself A Letter
Ahlert / Young
Im Happy When Im Hiking
Butler / Trevor
Ive Got A Lovely Bunch Of Coconuts
Fred Heatherton
If I Had My Way
Klein / Kendis
If Those Lips Could Only Speak
Ridgewell / Letters
Its A Long Way To Tipperary
Williams / Judge
Its My Mothers Birthday Today
Lisbona / Connor
Jolly Good Company
Raymond Wallace
Just Like The Ivy
Mills / Castling
Knees Up Mother Brown
Weston / Lee
Leaning On A Lamp Post
Furber / Rose / Gay
Lets All Go Down The Strand
Castling / Murphy
Lets All Sing Like The Birdies Sing
Hargreaves / Damerell / Evans
Lily Of Laguna
Leslie Stuart
Little Annie Rooney
Michael Nolan
Little Brown Jug
R. A. Eastburn
Macnamaras Band
Shamus Oconnor
Miss You
Tobias / Tobias / Tobias
Music! Music! Music!
Baum / Weiss
My Old Mans A Dustman
Lonnie Donegan
My Tennessee Mountain Home
Dolly Parton
My Very Good Friend The Milkman
Burke / Spina
My Wild Irish Rose
Olcott / Ball
Nellie Dean
Harry Armstrong
Nellie The Elephant
Butler / Hart
On A Slow Boat To China
Frank Loesser
On Ilkley Moor Baht At
Trad.
On Top Of Old Smokey
Kentucky Mountain Folk Song
One, Two, Button Your Shoe
Johnston / Burke
Peg O My Heart
Bryan / Fisher
Pennies From Heaven
Johnston / Burke
Ramblin Rose
Sherman / Sherman
Show Me The Way To Go Home
King / Swain
Someday (youll Want Me To Want You)
Jimmie Hodges
Sonny Boy
Desylva / Henderson
Sugartime
Phillips / Echols
The Ballad Of Jack The Ripper
Phlange / Home / Roper
The Hokey Cokey
Jimmy Kennedy
The Lambeth Walk
Furber / Rose / Gay
The Man Who Broke The Bank At Monte Carlo
Fred Gilbert
The More We Are Together
Irving King
The Mountains Of Mourne
French / Collisson
The Three Bells (les Trois Cloches)
Villard (gilles) / Reisfeld
The Whelk Song
West / Reine / Kulma
The Wild Colonial Boy
Trad.
There Is A Tavern In The Town
Trad.
Theres A Tear In My Beer
Hank Williams
Together
Desylva / Brown / Henderson
Underneath The Arches
Bud Flanagan
Waiting At The Church
Leigh / Pether
Well Meet Again
Charles / Parker
What Shall We Do With The Drunken Sailor?
Trad.
When Irish Eyes Are Smiling
Olcott / Ball / Graff
Without A Song
Rose / Eliscu / Youmans
Wotcher Me Old Cock Sparrer
Scott-coomber / Martin
You Always Hurt The One You Love
Doris Fisher
Youre Nobody Til Somebody Loves You
Morgan / Stock / Cavanaugh
---