Home : Popular and Classical Collections : Easy Folksong Fake Book Key C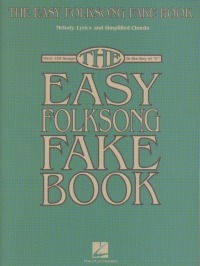 Easy Folksong Fake Book Key C
---
---
---
Availability:
Expected Shortly
---
Easy Folksong Fake Book Key C' Now you can have all your folk favorites in one big collection inc larger than usual notation' all songs in the key of C' simplified harmonies and melodies' and over 120 favourites' Songs include' Ash Grove' My Bonnie Lies Over the Ocean' Frankie and Johnny' Casey Jones' Beautiful Dreamer' Danny Boy' Mrs Murphy's Chowder' If You're Happy and You Know It' Deep River' The Band Played On' My Wild Irish Rose' Hava Nagila' Camptown Races' Mexican Hat Dance' and More'

Just one of the many exciting Music collection products from our immense range of Sheet Music, Songbooks and Music Gifts for all Musicians, Teachers, Bands, Choirs, and Schools.
---
Arrangement:
Solo Instrument and Chords
---
Tis The Last Rose Of Summer
Milliken / Moore
(i Wish I Was In) Dixie
Daniel Decatur Emmett
A Tisket, A Tasket
Ella Fitzgerald
All Gods Children Got Shoes
All Night, All Day
Spiritual
All Through The Night
Welsh Folk Song
Aloha Oe
Queen Liliuokalani
And The Green Grass Grows All Around
Arkansas Traveler
Southern American Folk Song
Auld Lang Syne
Robert Burns
Aura Lee
Poulton / Fosdick
Beautiful Brown Eyes
Trad.
Beautiful Dreamer
Stephen C. Foster
Believe Me, If All Those Endearing Young Charms
Thomas Moore
Buffalo Gals (wont You Come Out Tonight?)
Cool White (john Hodges)
Camptown Races
Stephen C. Foster
Carry Me Back To Old Virginny
James A. Bland
Casey Jones
Seibert / Newton
Cielito Lindo (my Pretty Darling)
C. Fernandez
Cockles And Mussels
Trad.
Country Gardens
Percy Aldridge Grainger
Deep River
African-american Spiritual
Down By The Riverside
African-american Spiritual
Drink To Me Only With Thine Eyes
Trad.
Du, Du Liegst Mir Im Herzen (you, You Weigh On My Heart)
German Folk Song
For Hes A Jolly Good Fellow
Trad.
Grandfathers Clock
Henry Clay Work
Hava Nagila
Nathanson / Idelson
Hes Got The Whole World In His Hands
Spiritual
Home On The Range
Higley / Kelly
Home Sweet Home
Payne / Bishop
House Of The Rising Sun
Trad.
I Gave My Love A Cherry (the Riddle Song)
Trad.
Ive Been Working On The Railroad
American Folk Song
Ive Got Peace Like A River
Trad.
If Youre Happy And You Know It
L. Smith
Jeanie With The Light Brown Hair
Stephen C. Foster
La Cucaracha
Mexican Revolutionary Folk Song
Little Brown Jug
R. A. Eastburn
Loch Lomond
Scottish Folk Song
My Bonnie Lies Over The Ocean
Trad.
My Old Kentucky Home
Stephen C. Foster
My Wild Irish Rose
Olcott / Ball
Nobody Knows The Trouble Ive Seen
African-american Spiritual
Oh! Susanna
Stephen C. Foster
Old Black Joe
Stephen C. Foster
Old Folks At Home (swanee River)
Stephen C. Foster
Sailing, Sailing
Godfrey Marks
Sakura (cherry Blossoms)
Anon.
Santa Lucia
Teodoro Cottrau
School Days (when We Were A Couple Of Kids)
Cobb / Edwards
She Wore A Yellow Ribbon
George A. Norton
Shell Be Comin Round The Mountain
Trad.
Shortnin Bread
Plantation Song
Sing A Song Of Sixpence
Trad.
Siyahamba (we Are Marching In The Light Of God)
Song Of The Volga Boatmen
Trad.
Sweet Betsy From Pike
American Folk Song
Take Me Out To The Ball Game
Norworth / Von Tilzer
The Ash Grove
Welsh Trad.
The Banana Boat Song
Jamaican Work Song
The Band Played On
Palmer / Ward
The Blue Tail Fly (jimmy Crack Corn)
Daniel Decatur Emmett
The Bluebells Of Scotland
Trad.
The Erie Canal
Thomas S. Allen
The Foggy, Foggy Dew
Trad.
The Girl I Left Behind Me
The Man On The Flying Trapeze
Leybourne / Lee
The Old Gray Mare
J. Warner
The Red River Valley
Trad.
The Streets Of Laredo
American Cowboy Song
The Wabash Cannon Ball
Hobo Song
The Yellow Rose Of Texas
J.k., 1858
Turkey In The Straw
American Folksong
When Johnny Comes Marching Home
Patrick Sarsfield Gilmore
When The Saints Go Marching In
Trad.
Will The Circle Be Unbroken
Habershon / Gabriel
---