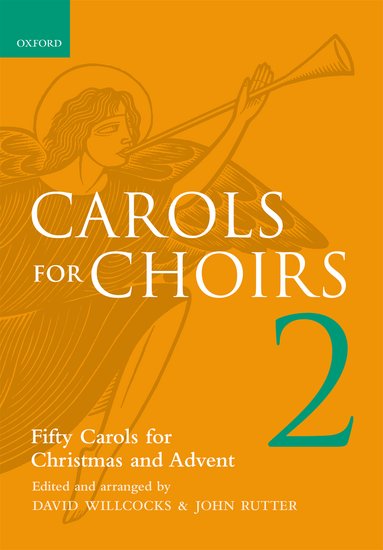 Carols For Choirs 2 Paperback Satb Orange
---
---
---
---
The volumes of Carols for Choirs have established themselves as the quintessential Carol books for Carol'singers around the world' Each volume presents a wide range of Carols to suit every occasion' from well known tunes superbly arranged to the best original compostions' Carols for Choirs 2 'Paperback' contains 50 varied carols for every occasion and includes compositions by Benjamin Britten' William Mathias and William Walton'

Just one of the many exciting Sheet Music products from our immense range of Sheet Music, Songbooks and Music Gifts for all Musicians, Teachers, Bands, Choirs, and Schools.
---
Instrument:
Choral And Vocal Scores
---
A Babe Is Born I Wys
F. Bainton
A Child Is Born In Bethlehem
Scheidt Ed. Willcocks
A New Year Carol
Benjamin Britten
Adam Lay Ybounden
Boris Ord
All My Heart This Night Rejoices
J. G. Ebeling
All This Time
William Walton
Come Leave Your Sheep
French Trad. Arr. Rutter
Come, Thou Redeemer Of The Earth
German Trad. Arr. Willcocks
Deck The Hall
Welsh Trad. Arr. Willcocks
Ding Dong! Merrily On High
16th Century French Arr. Willcocks
Down In Yon Forest
English Trad. Arr. Rutter
Gabriels Message
Basque NoŽl Arr. Willcocks
Hail! Blessed Virgin Mary
Italian Harm. Wood
Hark! The Herald-angels Sing
Mendelssohn Arr. Willcocks
He Is Born The Divine Christ Child
French Trad. Arr. Rutter
Here We Come A-wassailing
English Trad. Arr. Rutter
How Far Is It To Bethlehem?
English Trad. Arr. Willcocks
I Saw A Maiden
Basque NoŽl Arr. Pettman
I Sing Of A Maiden
Patrick Hadley
Il Est Nť Le Divin Enfant (he Is Born The Divine Christ-child)
French Trad. Arr. Rutter
It Came Upon The Midnight Clear
English Trad. Arr. Willcocks
Masters In This Hall
French Trad. Arr. Willcocks
Matin Responsory
Adapted From Palestrina
Nativity Carol
John Rutter
Nowell, Sing Nowell
French Trad. Arr. Rutter
NoŽl Nouvelet
French Trad. Arr. Rutter
O Come, All Ye Faithful (adeste Fidelis)
John Francis Wade
O Come, O Come, Emmanuel (veni, Veni, Emmanuel)
15th Century French Arr. Willcocks
Of The Fathers Heart Begotten (corde Natus Ex Parentis)
From Piae Cantiones Arr. Willcocks
Once In Royal Davids City
H. J. Gauntlett Harm. Mann Arr. Willcocks
Out Of Your Sleep
Richard Rodney Bennett
Past Three A Clock
English Trad. Arr. Rutter
Patapan
Burgundian Arr. Jacques
Personent Hodie
German 1360 Arr. Holst
Quelle Est Cetter Odeur Agrťable? (whence Is That Goodly Fragrance Flowing?)
French Trad. Arr. Willcocks
Quem Pastores Laudavere (shepherds Left Their Flocks A-straying)
14th Cent. German Arr. Rutter
Quittez, Pasteurs
French Trad. Arr. Rutter
Resonemus Laudibus
14th Cent. Arr. Willcocks
Sans Day Carol
Cornish Trad. Arr. Rutter
Shepherds Pipe Carol
John Rutter
Silent Night (stille Nacht)
Franz Gruber Arr. Willcocks
Sir ChristŤmas
William Mathias
The Angels And The Shepherds
Bohemian Trad. Arr. C. H. Trevor
The Cherry Tree Carol
English Trad. Arr. Willcocks
The Holly And The Ivy
English Trad. Arr. Walford Davies
The Infant King
Basque NoŽl Arr. Willcocks
The Lord At First Did Adam Make
English Trad. Arr. Willcocks
The Shepherds Cradle-song
Leuner Arr. Mendelssohn
The Truth From Above
English Trad. Arr. Vaughan Williams
The Twelve Days Of Christmas
English Trad. Arr. Rutter
There Is No Rose
Anon. C.1420 Ed. Stevens
Tomorrow Shall Be My Dancing Day
English Trad. Arr. Willcocks
While Shepherds Watched Their Flocks
From Este S Psalter Arr. Willcocks
Zion HŲrt Die Wšchter Singen (zion Hears The Watchmens Voices)
Bach Arr. Rutter